NETFLIX PRESENTA PELÍCULAS DE DRAGON BALL Z, BATTLE OF GODS Y RESURRECTION OF F
Dragon Ball finalmente regresa a Netflix en Francia!
Estimados usuarios de
Netflix
, una gran noticia: ¡la famosa aplicación de VOD / legal streaming (re) finalmente propone el
Dragon Ball en Francia
!
Era hora.
Por ahora, vamos a tener que "arreglar" las últimas películas en cartelera en los cines:
Dragon Ball Z Batalla de los dioses
, y
Dragon Ball Z F resurrección
.
Todavía está lejos de la cuenta, especialmente en comparación con el Netflix japonés (que contiene todos los episodios de Dragon Ball y Dragon Ball Z), ¡pero es un buen comienzo!
Esta no es la primera vez, ya que en septiembre de 2014, tres películas de Dragon Ball ya aparecieron en Netflix France ... Excepto que han sido eliminadas desde entonces.
Afortunadamente,
mantuvimos huellas en el foro
(gracias Fred69)!
Estos fueron Dragon Ball Z:
Fusiones
,
The Dragon
Attack
y
Super Warriors Attack
.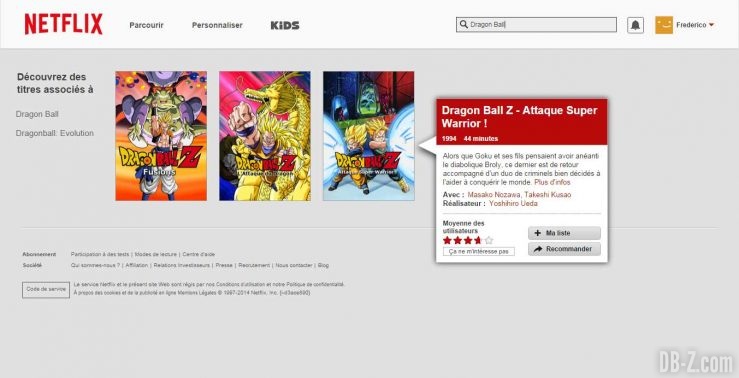 NETFLIX PRESENTA PELÍCULAS DE DRAGON BALL Z, BATTLE OF GODS Y RESURRECTION OF F
Reviewed by
Gerald NeT - TV
on
20:10
Rating: